Elvi and Alkoutlet premises in Druva, Saldus district.
The object is located in the quiet Druva village of Saldus Parish, about 50 meters from the Kuldīga highway. The ground floor of the building is used by supermarket chain 'Elvi' and 'Alkoutlet' shops, but the second floor of the building has a living space of 47.1 to 111.6 m2.
Object offers:
Free parking for both customers and visitors;
It is possible to adapt the premises to the wishes and needs of the tenant;
Easy access to suppliers;
Profesionāla pārvaldība.
Adress: Vienības street 4, Druva, Saldus rajons
Total area: 633 m2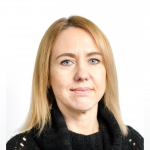 Inese Krasovska
Phone: +371 27700270
inese.krasovska@realto.lv