The object is located in well maintained residential area of ​​Ventspils city. The retail space is currently used by Elvi retail chain.
Object offers:
Free parking for both customers and visitors;
It is possible to adapt the premises to the wishes and needs of the tenant;
Easy access to suppliers;
Profesionāla pārvaldība.
AdresS: Kuldīgas street 123, Ventspils
Total area: 212 m2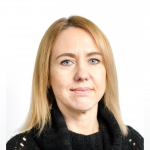 Inese Krasovska
Phone: +371 27700270
inese.krasovska@realto.lv